SERVER reference 
Since 1949, Server has been helping restaurateurs around the world find intelligent, efficient and sustainable ways to better serve fresh foods. Server products are designed to help you serve your customers as efficiently as possible.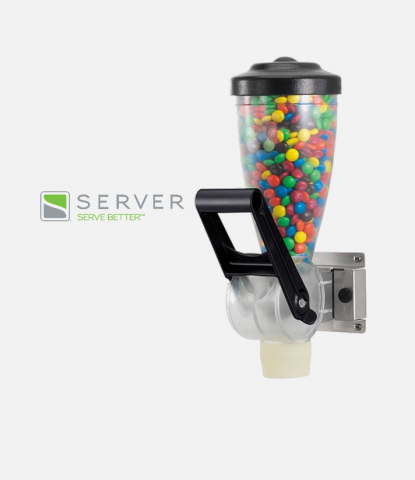 86670
Wall dispenser designed for solid, dry products not exceeding a diameter of 1.3 cm.
Ideal for any application in toppings and other desserts.
Precise control of the dosage.
Adjust doses from 7 ml to 60 ml in increments of 4 ml.
Adjustment designed to not be changed accidentally without disassembly.
Transparent finishing reserve for a better visualization of the product and allowing an easy verification of the quantity of product remaining.
Distributor available in 1 or 2 L capacity (86680).
88780
Slimline™  Dry Food & Candy dispenser 
Precise serving of dry candies, toppings or mix-in ingredients
Complimenting ice cream and frozen yogurt treats
Yogurt toppings like granola, crisped rice cereal and crushed cookies
Not recommended for powders or sticky products such as crushed candy bars
Each hopper holds approx. (135) 1/2 ounce servings and dispenses until empty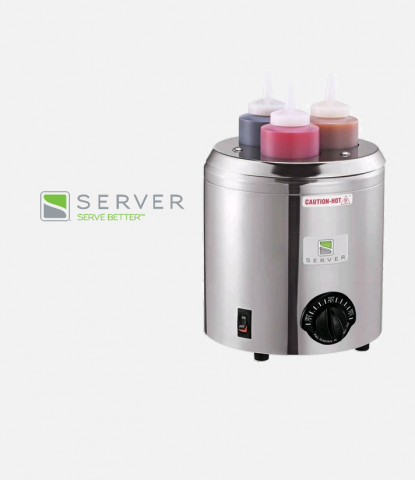 86921
Réchaud bain-marie en acier inoxydable
Maintien en température des sauces et coulis.
Trois bouteilles de  compression de haute  densité de 57cl incluses.
Le support Drop-In s'enlève facilement pour le nettoyage.
Thermostat réglable.
500 watts, 230 volts, 60 Hz, cordon d'alimentation européen.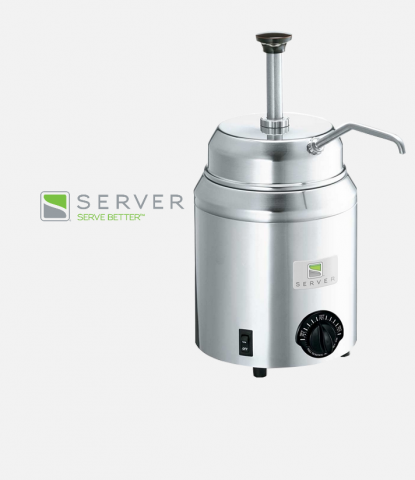 81003
Nappeur rond à bain-marie sans bec chauffant
Corps et pompes en acier inoxydable.
Sauce chaude distribuée directement  d'une boîte N°10 (contenance 2,8 l) ou du conteneur inox Réf. 94009 (en option).
Thermostat réglable de  + 35 ° à + 95 °
Dose maximale distribuée par chaque action de pompe : 30 ml.
Colliers régulateurs compris pour des doses de 22 ml, 15 ml et 7 ml
500 watts, cordon d'alimentation européen.
80840
Distributeur carré à bain-marie avec bec chauffant
Sauce chaude distribuée directement du récipient de 2,8 l en acier inoxydable.
Thermostat pré-calibré assurant un contrôle précis de la chaleur.
Pompe en acier inoxydable avec billes de soupape capturées éliminant les pertes.
Portion maximale de 30  ml, réglable par incréments de 7 ml
Chauffe-bec assurant la sécurité lors de la distribution d'aliments potentiellement dangereux.
2 façades magnétiques de merchandising : chocolat et caramel fondants.
230v avec cordon d'alimentation.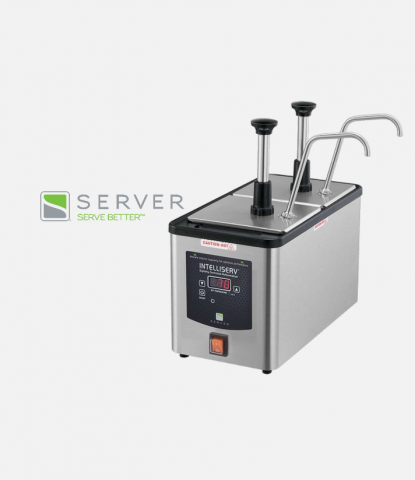 86338
Réchaud bain-marie INTELLISERV
Le contrôle numérique de la température assure un maintien précis - pas de brûlure
Les plus petites quantités gardent les garnitures et les sauces à leur fraîcheur maximale
Réchauffe rapidement à une température de sécurité avant que les batteries se développent
Affichage numérique fournit instantanément l'état de la température et les réglages
Réchaud en acier inoxydable avec blocs modulables (avec louches, pompes ou bouteilles de compression)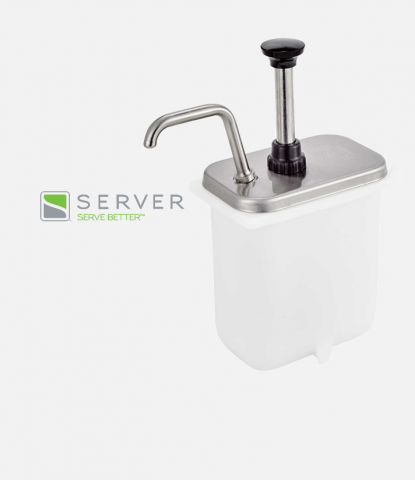 86750
Pompe pour sauce épaisse
Modèle pour comptoir 
Distribue des sirops, des sauces concentrées, etc. 
Chaque pression sert une portion maximale de 30 mL qui peut être réduite par portions
Bouton interchangeable avec des couleurs différentes pour identifier vos produits